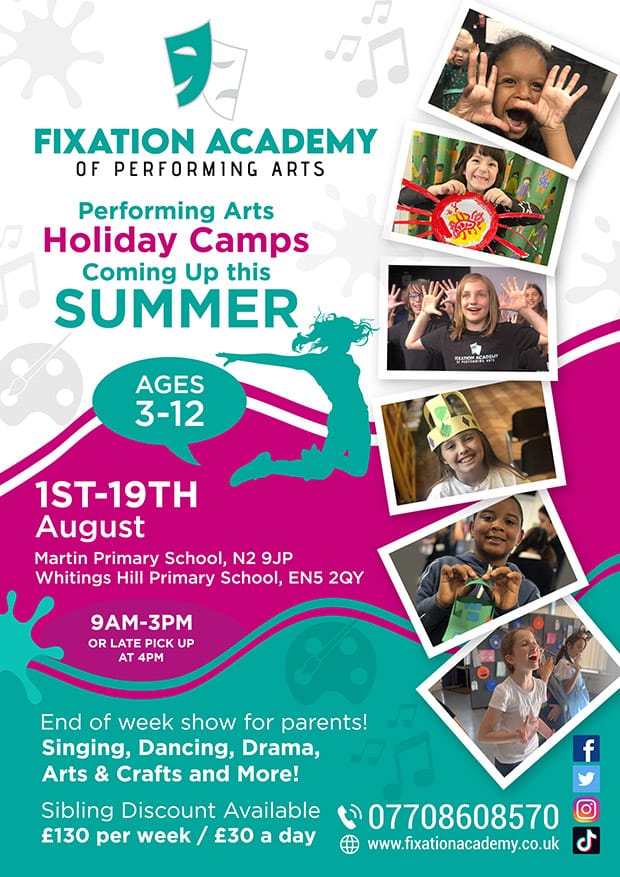 We are running our summer camp over two weeks:
🌞🌞🎶 🎉 1st Aug – 5th Aug  🎉🎶🌞🌞
&
🌞🌞🎶 🎉 15th – 19th Aug  🎉🎶🌞🌞

Fixation Academy of Performing arts provides award winning classes in North London and Hertfordshire to ages 3-18.
At Fixation our team of professionals use their extensive knowledge of the performance industry to provide quality training in disciplines acting, singing, dance, drama, musical theatre and more for ages 3-18 and adults.
Our aim for each person that comes through our doors is to have fun, build confidence, make new friends, learn new skills and express themselves through the arts. Whether you see the performing arts as a fun hobby or potential career path, Fixation Academy is a place for students to shine, giving each child the skills and training necessary to turn their dreams into a reality.
'The stage can be a wonderful partner in the process of self-discovery' 
At our Academy students benefit from weekly term time classes that work towards annual full-scale productions, in house shows and other public performances such as community festivals and competitions throughout the year. Fixation Academy of Performing Arts also give students the opportunity to progress through their exam grades with LAMDA.
"I hired Fixation Theatre for my daughter's birthday party and they were brilliant! They played lots of games and kept the children entertained. I highly […]
Happy Parent
What a lovely idea! I really enjoyed learning the street dance moves and it was so nice to do an activity like this with my […]
Lucinda
Thank you so much for providing this opportunity to take part in a Little Visions class with my daughter for mothers Day! It was amazing […]
Claire Fretwell
FAQ - Click a Question For More Information
What ages do we work with?
Your Subtitle Goes Here
Our youngest student intake at Fixation Academy of Performing Arts is 3 years old in our Baby Ballet and Mini Movers classes, with our oldest students being in our Youth Theatre class at age 18.
We also work with Adults with Learning Disabilities ages 18+
Where are our classes?
Your Subtitle Goes Here
Our regular term time classes take place in East Finchley and High Barnet.
To find a class near you visit our venues page.
How to get involved?
Your Subtitle Goes Here
If you would like to book a trial class at our Academy, you can do so on our booking page.
How much does it cost?
Your Subtitle Goes Here
Our weekly term time classes start from £6.00 per class, depending on the class length.
Student enrolling for exams will be subject to pay the examination fees on top of our weekly term time fee.
Students taking part in our annual shows will also be subject to an annual Show Fee (£20.00) and Costume Fee (£20.00)
Who are the teachers?
Your Subtitle Goes Here
All of our Academy teachers are hand-picked industry professionals working in the world of tv, film and theatre; as well as experienced coaches in working with children, youth and adults as well as SEN.
All of our staff are fully DBS checked, insured and trained, so you know that you are in very safe, capable hands.
For more information about each of our Academy teachers, please visit our Meet the Team page.
Do we offer exams for students?
Your Subtitle Goes Here
Yes we do!
At our Academy we currently offer LAMDA Exams for our students.
For more information on our exams please refer to our Exam page