East Finchley Festival – Community Performance
East Finchley Festival is a community festival, held on the 23rd June at Cherry Tree Wood.
We are lucky enough to return to this festival for another year with our Performing Arts, Little Visions and Cheerleading classes to perform some numbers from our upcoming show- High School Musical.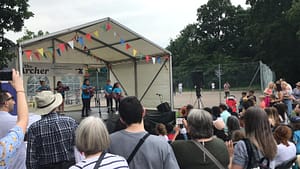 Make sure you come down to Cherry Tree Wood to enjoy a day of performances, live music, a range of hot and cold food stalls, inflatables, Punch and Judy shows and story telling!
A perfect family day out… Plus you get to see our Fixation Family perform!